About us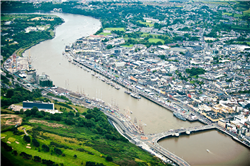 Waterford Golf Club was founded in 1912 and overlooks the historic city of Waterford, Irelands Oldest City, located in the Sunny South East of Ireland.
With its magnificent views, this 18 hole parkland course, Par 71, is a gem on the outskirts of Waterford City. The irregular city, with its towers and steeples spread before the eye along the valley, and in the west, Slievenamon and the Comeragh Mountains, make a background of enduring splendor.
The front 9 holes were designed by Mr. Willie Park, Scotland, who was twice Open Champion 1887 & 1889).
The back 9 was designed by the great James Braid, Scotland, who was Five time Open Champion, 1901, 1905, 1906, 1908 & 1910
Both of these great golfers are also members of the World Golf Hall of Fame
History
Founded in 1912.
The history of Waterford Golf Club is well-documented in the clubs souvenir brochure for the 25th Anniversary of the Waterford Crystal Scratch Cup. When the first club was formed at Tramore in 1894 it was called the Waterford and Tramore Golf Club, which would indicate that there was an element from the Tramore club involved in the origins of the club.The first meeting to form the Waterford club was held on the 8th of March, 1912, in the Imperial Hotel. In the chair was Mr. H. J. Forde the man credited with starting the club. The meeting was told that land was available at Mount Misery on a lease of £35 a year. A further meeting was held on the 29th March and the provisional committee reported that 47 acres had been leased.
The meeting elected the following officers: President, Mr. A. E. Graves, Captain, H. Tooms, and the Hon. Secretary was A. E. Walker.
Cecil Barcroft, Secretary of the Royal Dublin, was invited to design the course. However, before his plans could be put into place, the committee decided to commission Willie Park junior, the two-times winner of the British Open in 1887 and 1879 to redesign the course. His design was opened in July, 1913, stretching over 3,000 yards.In 1935 the committee decided to extend to eighteen-holes and this time they decided to get the services of the best golf architect available in the shape of James Braid, who had won the British Open five times. Braid had already built a reputation as a course architect and the fine course we now find at Waterford is a credit to the foresight of the committees.
Roll of Honour
Year
2023
2022
2021
2020
Captain
Kevin Finnegan
Eamonn Rice
Paul Long
Michael Nevin
Lady Captain
Noreen McDonald
Gabrielle Finnegan
Geraldine Walsh
Deirdre Reid
President
Joe Tobin
Jerry Ahern
Michael Dollard
Liam Tobin
Lady President
Kathleen Walsh
Ellen O Halloran
Rosemary Mullan
Angela Cashman
2019
2018
2017

Eamon Cleary
John Hayes
Nicolas Donnelly
Maria Mooney
Dr Evelyn Walsh
Mary Barry Walsh
Tom Grant
J O'Donoghue
Tony Gleeson
Bernie McGovern
Esther Doyle
Hsiping Murphy
2016
Gerry O'Keeffe
Assumpta O'Mahony
Peter Finnegan
Joan Lowe
2015
Michael Kelly
Kathleen Walsh
Ned Doyle
Mary Brannigan
2014
Michael Dollard
Kay Walsh
Michael Gaffney
Mary O'Shea
2013
Paddy Bolger
E. O. Halloran
Richard Dowling
Miriam Corcoran
2012
JJ Ryan
Rosemary Mullen
George Walsh
Angela Cashman
2011
Kieran Scanlon
S. Barrett
Joe Barry
Mary Reid
2010
Martin Bolger
Angela Cashman
Albert Byrne
Anne Condon
2009
John Fearon
Mary Dalton
Paddy Shore
Eileen Fleming
2008
Dr Kevin Ward
Bernie McGovern
Frank Manning
Eileen Fleming
2007
Peter Finnegan
B. Monaghan
Bobby O'Keeffe
Emily Troy
2006
Tony Gleeson
Esther Doyle
John Ryan
Fidna Cosgrove
2005
Patrick Shore
Joan Lowe
John Duffin
Fiona Cosgrove
2004
Nicholas Kavanagh
H. Murphy
Jack Williams
W. Reynolds
2003
Eamon Keane
Mary Brannigan
Michael Phelan
Toni Delany
2002
Jack O'Donoghue
Mary O'Shea
Patrick Buggy
Toni Delaney
2001
Matt Holohan
M. Corcoran
Kevin Hall
Mrs. Maura Gilchrist
2000
Michael O'Sullivan
Angela Cashman
Patrick J. Burke
Mrs. M. Hutchinson
1999
Denis Deasy
Mrs. Liz Donegan
J Fuller
Mrs. Evelyn O'Keeffe
1998
Michael Gaffney
Mrs. R. Matthews
J. Fuller
Mrs. Evelyn O'Keeffe
1997
Ed. Doyle
A. Vogelaar
T. C. Walsh
Mrs. T. J. Daly
1996
John Flavin
M. Reid
T. C. Walsh
Mrs. T. J. Daly
1995
M. Boland
A. Condon
M. J. Brennan
Mrs. M. Prendiville
1994
L. Murphy
R. Reynolds
M. J. Brennan
Mrs. M. Prendiville
1993
G. Walsh
G. Wallis
J. O'Riordan
Miss E. Dunne
1992
R. Dowling
H. Downey
J. O'Riordan
Miss E. Dunne
1991
P. J. Burke
E. Doolan
R. Phelan
Miss L. Fitzgerald
1990
J. Fuller
E. Fleming
R. Phelan
Miss L. Fitzgerald
1989
T. C. Walsh
E. Troy
R. Phelan
Mrs. L. Clancy